FAREWELL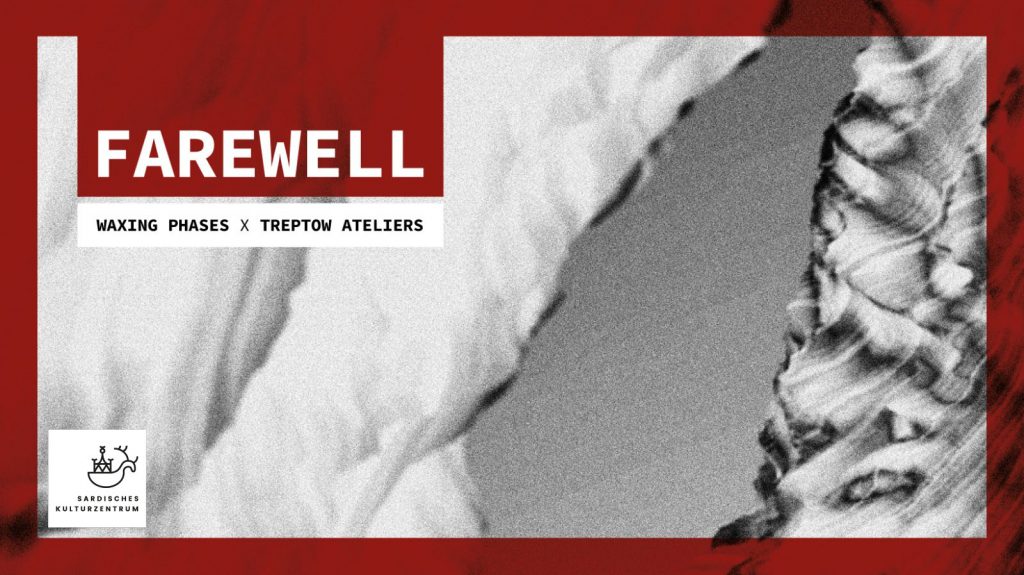 Treptow Ateliers hosts Waxing Phases X FAREWELL on 22 July 2022 for a unique event of artistic and experimental sharing, exploring each artist's creative potential, and contemplating space & art.
Music live performances and art installations are designed to create a total immersion into art, art within oneself.
We invite you to FAREWELL, an immersive experience presented in the historical HALLE of Treptow Ateliers, Schöneweide.
Come and join us!
\\\
The event will start with a SOUND BODY Workshop by AUM Gaden for a more intense and conscious sound experience, active and deep listening.
It starts from the knowledge of how sound affects our physical and energetic body and offers an introduction to Vibrational Medicine fundamentals, with a focus on the Central Energetic System and demonstrates the effects of Vocal Toning on a physical and emotional level, promoting active deep listening as a self-balancing technique.- Energetic Anatomy Theory (Introduction and Chakra System)
– The Resonance Principle and Ancestral Sounds
– Sound Therapy Lab / PracticeIt is open to everybody, no musical theories knowledge is required.You are free to bring your yoga mate or a pillow for the best experience.
\\\
https://ra.co/events/1553415 ; https://linktr.ee/Farewell_berlin
/ ENTRANCE: Kostendeckung donation: 10,00 € at the door /
MANIFESTO
Liberate ourselves from an acquired identity, getting ready to contemplate space.
To find ourselves free of all prejudice is to be immersed in our original being. From here we can indulge in our deepest emotions, laying on the ground and feeling its emptiness, opening up to out-of-time experiences.
Our cosmic consciousness leads to a renewed awareness of our being: we become part of sound, space, light and matter.
Farewell to our indefinite being and hail to conscious assimilation of who we are and what surrounds us.
We offer visitors a wondering dimension, in which questions we escape every day come up in the shape of meditative reflections in solitary and/or collective expression.
Being and non-being are born from each other.
This show provides artists with the opportunity to experiment and explore their creative potential.
ART INSTALLATIONS
Jonathan Apelbaum
Ioannis Malegiannakis + ASERET **
Geso
Samanta Malavasi + Dru Blumensheid
LIVE PERFORMANCES
18:00 – Start
19:00 – AUM Garden SOUND BODY Workshop
20:00 – AND OTHERS DJ set (The Ambient Collective)
21:00 – AUM Garden Sound Bath
22:00 – ASERET + Or Sarfati Live A/V
23:00 – ATŌMI + Hala Ghatasheh Live A/V
24:00 – ABUNO Live A/V
01:00 – Menion Live
02:00 – Kris Vango Live
03:00 – Hypnotic Black Magic DJ set
04:00 – Lichene DJ set
06:00 – End
** Headphone immersive installation: we will provide some Bluetooth headphones. Feel free to bring your own headphones as well **
\\\
AUM Garden https://linktr.ee/aumgardensoundhealing
The Ambient Collective https://soundcloud.com/theambientcollective
ASERET https://linktr.ee/aseretmusic
Or Sarfati www.orsarfati.com
ATŌMI https://linktr.ee/iamatomi
Hala Ghatasheh https://www.halaghatasheh.com/
ABUNO https://linktr.ee/abuno
Menion https://linktr.ee/menion_music
Kris Vango https://www.instagram.com/saturn.krisvango/
Hypnotic Black Magic https://soundcloud.com/hypnotic-black-magic
Lichene https://www.mixcloud.com/licia-lithium/
Jonathan Apelbaum https://www.instagram.com/jonathan_apelbaum_/
Geso https://www.instagram.com/geso_rgrrrb/
Samanta Malavasi https://www.samantamalavasi.it/
Dru Blumensheid https://www.drublumensheid.com/
\\\
Curated by:
Andrea Loriga (ASERET) and Silvia Russo
Partner:
https://lighthouse.berlin
Supported by:
Sardisches Kultur Zentrum, Beatrice Fusari and Treptow Ateliers
Graphics by:
Luca Ciabatti